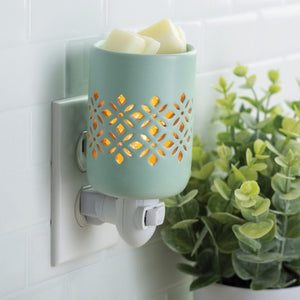 Description
Rediscover the comfort and warmth of your home with the Soft Mint Plug-In Wax Warmer! This flameless alternative to candles lets you use wax melts for a gentle, soothing aroma. Perfect for apartments, dorms or any living space where candles aren't allowed. Just plug it in, place one of our wax melts in the top, switch it on and enjoy a calming ambiance as the scent begins to fill your space. 

Design: This intricate lemon-shaped design, finished in a rich matte mint, is sure to enhance any space.
Function: With its twistable plug base this wax warmer is compatible with vertical and horizontal 3 prong US outlets. Idea use for above counters for small rooms and spaces.
Includes: Soft Mint Wax Melter attached to the rotating plug base, and 15-watt NP7 warming bulb.

Manufacturer: Candle Warmers Etc.
Small Space Fragrance: Pair with our non-toxic wax melts for the perfect ambience - simply shop HERE! For this warmer, we suggest using 0.9 or 3oz size melts, to create an unbelievably aromatic experience!
Directions: Simply plug in your new warmer, turn it on, and add your wax melt cubes to the top. As the wax cube begins to melt the scent will being to disperse.