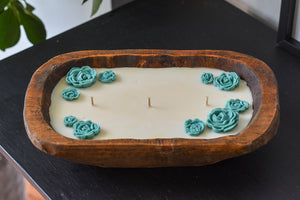 About our Dough Bowl Candles
Dough bowl candles are a great decorative and sensational piece to add to any home decor. Great for gatherings as a centerpiece. Leave it unlit or light it up, either way your guests will be talking about this unique decor piece even after they leave. These Spa Day Dough bowl candles are made with mostly undyed white wax while dyed forest green flowers give these candles a elegantly simple look. 
These bowls are handcrafted wood. Due to the handcrafted nature no two are alike, which means they do not all burn the same or weigh the same. Mini dough bowls hold approximately between 12-16 oz of wax. A popsicle stick is included in case there is leftover wax on the sides of the bowl. Just scrape the excess wax with the popsicle stick and put the collected wax in the middle of the bowl to be melted the next time the candle is burned. We also offer candle refill kits for you to refill your dough bowl once your dough bowl candle is finished.
The dough bowls are sprayed with a Non-Toxic, USA made fire-retardant spray. Please follow all safety instructions and warnings. 
About the Fragrance
Spa Day is a calming earthy fragrance starting with the smell of fresh succulents emerging for spring. Sweet agave and watery aloe give that feel for a self-care day after a long stressful day. C
ut green leaves and chrysanthemum petals give way to the notes of patchouli which ground it with a pleasing earthiness.
*Infused with natural essential oils including orange and fir*
Fragrance Notes
Middle: 
Green Leaves, Green Floral, Chrysanthemum
This fragrance is a clean scent and contains:
✖️ Zero phthalates
✖️ Zero carcinogens
✖️ Zero toxins
Are dough bowl candles safe? 
We believe as long as you follow the instructions on the warning label on your candle they are safe.
1. NEVER leave unattended. (Stay in the same room)
2. Put on a flat fire resistant surface.
3. Do not burn for more than 4 hours at a time.
4. Keep wick trimmed to 1/4".
5. Keep away from drafts and flammable objects.
6. Keep away from children and pets.
7. Cease burning when 1/2" of wax remains.