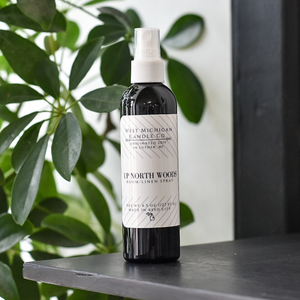 About our Room/Linen Sprays
Our room sprays are the most innovative and effective product on the market to eliminate biological odors associated with incontinence and even necrotic tissue. Unlike other sprays and deodorizers which simply mask the odor, our advanced f
ormula eliminates unpleasant and embarrassing odors. Our room sprays work great on all odors in a wide range of areas such as bathrooms, garbage cans, vehicles, bedrooms, linens, and more! 
Ingredients:   
Water
Natural 
Odor
 Counteractants
Denatured Alcohol
Polysorbate 20
Fragrance oil
NET WT: 4.5 oz of scented goodness
About the Fragrance
Take a stroll through Northern Michigan with our Up North Woods fragrance. This uniquely mixed fragrance provides a sophisticated pine scent combined with an undertone of fresh grass. 
*Infused with natural essential oils, including fir needle, cedarwood, eucalyptus, patchouli, and cedar leaf*
Fragrance Notes
Top: Eucalyptus, Mint

Middle: Cypress, Pine
Base: Tonka Bean, Smoke
This fragrance is a clean scent and contains:

✖️ Zero phthalates
✖️ Zero carcinogens
✖️ Zero toxins